Why architects choose perforated aluminum cladding materials
Special buildings, impressive buildings always attract the attention of the whole world. Perforated aluminum cladding is the most direct form for visual representation of the building, and has become a platform for great architects to show their talents and make a difference. The perforated aluminum cladding surface has a diverse and impressive perforated design surface. The facade is made of 100% high-grade aluminum alloy panels. Perforated aluminum cladding is produced according to each specific design of the architect. Therefore, with the face of perforated aluminum cladding, there will be no works like any other. Each of the construction works will be a different and impressive architecture.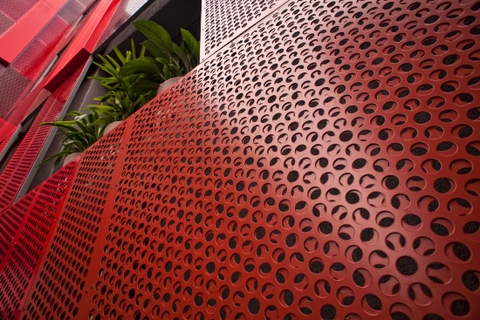 Specifications perforated aluminum cladding:
Size: Create any shape according to the design and specificity of the project.
Perforated shape and distance: according to requirements and physical limits.
Surface coating technology: Premium PVDF paint
Color: color as required (RAL color chart).
Material: Aluminum Aluminum alloy 1000, 3000 & 5000
Aluminum thickness: 1.0-5.0mm.

Outstanding advantages:
Diverse design, rich colors.
Lightweight, durable, convenient aluminum material: drilling, cutting, punching, forming ...
Heat resistant many times higher than conventional metal.
High color fastness, no abrasion, less affected by sudden changes of weather.
Good thermal insulation, creating a cool environment.
Easy construction, maintenance, hygiene.
Shielding, protecting the work surface, limiting the impact from the sun, rain, wind, dust ... from the outside environment.
Increase the life of the project, for long-term use.
Water resistant, moisture-proof and good antibacterial.
Bringing sustainable economic benefits, maximizing savings in electricity and maintenance costs ...
Defect:
In addition to the advantages, the surface of perforated aluminum cladding is also flawed:
Very low reusability due to being designed specifically for each project.
The initial investment cost for the construction is quite high.
The construction and construction team must have specialized expertise and experience.
Breakthrough architectural solution :
Unlike other types of facades, perforated aluminum cladding panels allow architects to be creative. Due to the soft properties of aluminum, the product is easy to process. Moreover, various colors are also an advantage that creates the appeal of the building system.
The perforated aluminum cladding is truly a breakthrough architectural solution for architectural creations. Products break down all barriers, allowing realization of every architect's design ideas. Since then, the product has contributed to creating impressive and luxurious artistic works.
Sustainable economic benefits
Due to the aluminum oxide cover, the perforated aluminum cladding surface can minimize the impact of weather on the building. The antimicrobial properties of aluminum prevent the bacteria from affecting the interior of the building. The roof, ceiling, decorative façade ... are protected from dust and insects. Since then, the building contributes to saving costs of cleaning, repairing or replacing furniture.
The product is heat-resistant, does not conduct heat, minimizing the temperature of the sun impacting on the building. Since then, the construction has reduced the amount of electricity consumed from the air conditioning system, saving the maximum energy costs for the project.