Plastic roofing sheets get light - Solutions for harsh summer
The roof is an important part directly affected by rain, wind, night dew, storm and sun. The elements of weather affect the roof, so this is an extremely important and worthwhile part. Insulation sheets are used as the best solution for your home space.

The basic requirements customers want when using materials:
- Good wind resistance, safe for users.
-Fast with time and not affected by weather.
-Good thermal insulation ability to create a stable thermal background in the home is less affected by the environment.
In response to that need, European Construction Systems Co., Ltd, we introduce to you a new type of material being used the most today. bright polycarbonate. They consist of 2 main types, namely solid polycarbonate sheets and hollow polycarbonate sheets. They are designed with many different patterns, shapes and colors to cater to the needs of users. It can be said that this is one of the thermal insulation materials that both have good function and good function. with good heat and heat resistance, including both utilities that reduce heat and cold heat entering the house. Thereby helping to balance the state of the indoor temperature in a stable and not too volatile environment.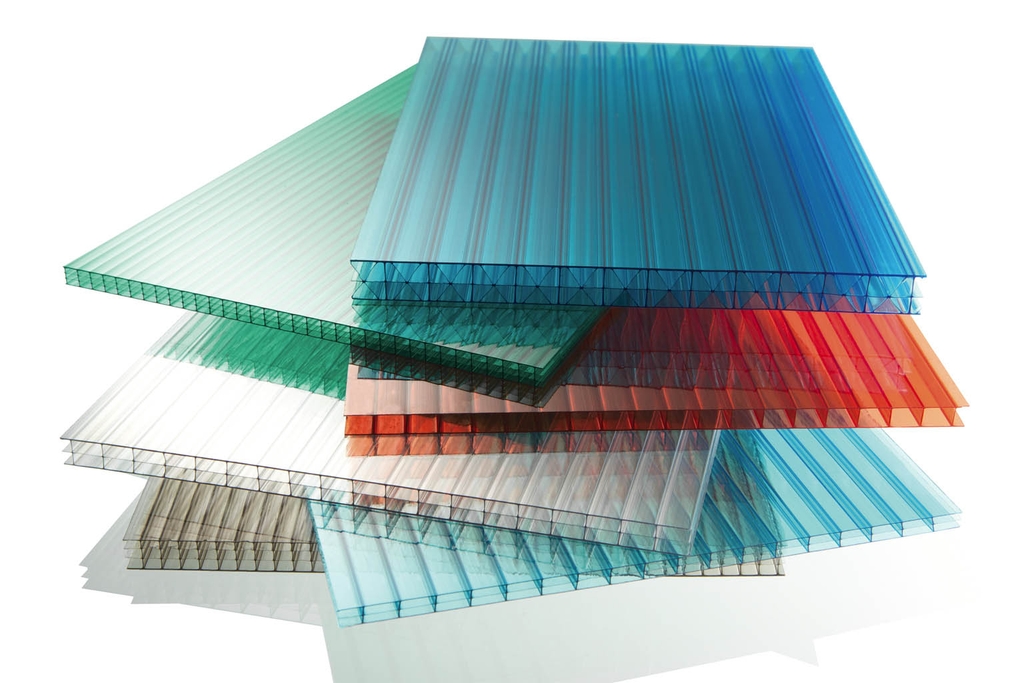 Advantages of plastic polycarbonate roofing sheets
-Sheet lightly and without scratches
- Maximum sound insulation capacity up to 43dB
-Sustainable structure, almost impossible to break from a temperature range of -40 to 115 ° C
-High light transmission capacity of 50-90%. This is a material comparable to the light transmission of glass
- Perfect insulation function and excellent UV protection. prevents 100% UV light up to 380 Nm.
- Polycarbonate sheets are capable of bearing 200 times more than glass
-Different designs can create curved shapes
-Multiple colors, with 3D color effect, can print text and pattern on the panel surface
-Lower weight with other materials makes it easier to transport and install more quickly.
-The highlight of the product is the warranty from the manufacturer up to 10 years
The application of plastic roofing sheets takes light polycarbonate
-Usable in most buildings from private housing, public areas, garages, other high-end structures.
- Polycarbonate plastic roofing sheets can also be used in creating greenhouses, adjusting temperatures differently from the environment for a particular world.
- Using integrated light for roofs with corrugated iron, aluminum
From the advantages and above applications of light-absorbing plastic sheets polycarbonate. Products have many preeminent features like that. Please pick up the phone and contact us 0971 594 488 for advice and best quotation for your project.