EuroZip aluminum roof system is self-cleaning
Eurozip aluminum roof slopes meet the technical requirements and unique design of each project. This lightweight aluminum roof system improves sound insulation and insulation very well. The erection of EuroZip aluminum roof system applying surface panels adds aesthetics, self-cleaning and is the best design solution for works that you are aiming for.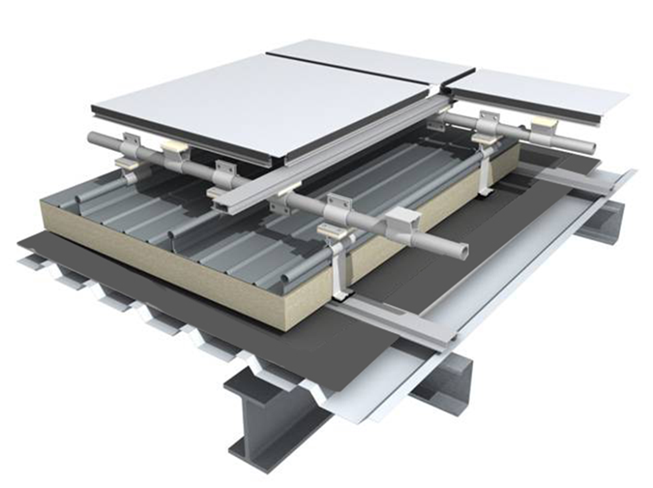 Image of aluminum cladding on EuroZip roof surface
Outstanding advantages of EuroZip aluminum roof system with self-cleaning cladding:
1 Beauty and decoration:
The cladding panel on the roof is diverse in design colors, depending on the design requirements of the project. Easy to change the color of the cladding when required without affecting the lower EuroZip roof system.
2 Roof surface cleaning system:
The surface of the panel is painted with PVDF 25-40 µ material, warranty of 10-25 years does not fade, does not peel. With open-seam cladding that does not come with silicone glue, the sharpness of the structure when it rains into the water will follow that connection to the gutter and escape. Keep the roof clean and not stagnant with water, leaves, dust on the roof
3 Create a plane
With EuroZip 65cm aluminum roof wave height, many users do not like the doubt on this roof when installing aluminum cladding system on the roof surface always makes the roof has a flat surface but still bends in the shape of the roof hide the unexpected high waves.
4 Heat-proof, soundproof insulation
Using EuroZip roof system, you have used all the best features of soundproofing, heat insulation, fireproofing, sound absorption without a comparable roof system. Plus the erection of aluminum cladding on the roof makes the roof system more than double the superior features on.
5 Light and simple installation accessories
Adjacent to EuroZip aluminum roof, there will be a separate kit to mount the aluminum roof and cladding system together. Just a light - durable - beautiful accessory kit is extremely simple and does not increase the gravity on the roof.
6 Fast construction
The erection of EuroZip aluminum self-cleaning roofing system is extremely fast and does not take much construction time and saves a lot of labor costs.
Image of the project has erected aluminum cladding on EuroZip roof system: